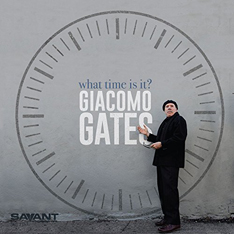 ---
Being a good jazz vocalist isn't easy, and simply releasing a CD doesn't prove competence. More than some genres, a voice that's technically good is almost a requirement. There are exceptions, but in this particular genre you don't find too many with an instrument like Leonard Cohen's. There's also the question of material. When it comes to the Great American Songbook, it's hard to give a fresh spin to tunes that were already popular in the first half of the 20th Century and never faded into obscurity. Usually the fault lies in the interpretations rather than the choices, with musicians creating uninspired arrangements of obvious material in a sad effort to seem relevant. Giacomo Gates avoids all of these pitfalls. He has a warm, intimate sound with the technical chops to do whatever he wants to with his voice and benefits from tasteful and uncluttered arrangements that allow him to draw in the listener with ingratiating humor, emotional insight, subtlety and exemplary musicianship. With John di Martino at the piano and Jerry Weldon's tenor sax out in front, the results never feel stilted and in fact Gates comes across as one of the most distinctive singers on the scene. His unique sense of phrasing and insinuating manner of delivering lyrics to songs like "On a Misty Night," "I Didn't Know What Time It Was," and "A Few Bucks Ahead" help assure him a place among today's top vocalists.
Release Date: APRIL 21st 2017
Savant Records
Album Credits
Giacomo Gates – vocals
Jerry Weldon – tenor saxophone
John di Martino – piano
Tony Lombardozzi – guitar
Lonnie Plaxico – bass
Vincent Ector – drums
Tracklist
1. I Didn't Know What Time It Was
2. On a Misty Night
3. Somebody Buy Me a Drink
4. Silhouettes
5. In Cognito
6. Mr. Kick
7. A Few Bucks Ahead
8. I Can't Help It
9. Disappointed
10. Spinnin' (Speedball)
11. Too Many Things
Reviews
JACK BOWERS
ALL ABOUT JAZZ
What is it that separates a "jazz singer" from the wannabes? While many people are known as or call themselves jazz singers, only a handful truly merit the name. Giacomo Gates, whose latest album What Time Is It? is his seventh (and fourth for Savant Records), is one of the chosen few. Why? Well, as the saying goes, if you have to ask . . .
The fact is, Gates has a pleasant baritone voice but not a great one. What sets him apart from so many others is his unflagging awareness of the music's undercurrent, pulse and substance. There's no affectation, simply unpretentious (and swinging) storytelling that never fails to charm. Whether singing or scatting, every phrase that Gates utters is as clear as the proverbial bell. In keeping with that, Gates has chosen hip themes by Tadd Dameron, Oscar Brown Jr., Eddie Jefferson, Lee Morgan,Betty Carter and others, each of which is explicitly tailored to suit his contemporary approach. He also sets to music a poem by Tom Robbins, Villa Incognito, deftly reshaping it as "In Cognito," and appends a composition of his own, the cerebral, spoken-word "Too Many Things," to ring down the curtain.
To set the theme, Gates opens with more spoken words as a prelude to the venerable Rodgers and Hart standard "I Didn't Know What Time It Was," his supple vocal leading to burnished solos by guitarist Tony Lombardozzi and tenorJerry Weldon. Dameron's easygoing "On a Misty Night" is next, followed by Brown Jr.'s bluesy "Somebody Buy Me a Drink" and the 1957 pop hit "Silhouettes." Brown Jr. also wrote the witty and emphatic "Mr. Kicks," Chet Baker's drummer Artt Frank the waggish "A Few Bucks Ahead." Completing the menu are Carter's "I Can't Help It," Jefferson's wry "Disappointed" and Morgan's "Spinnin'" (a.k.a. "Speedball").
While the debonair Weldon and Lombardozzi don't play on every track, their presence is always welcome. The other members of the group—pianistJohn di Martino, bassist Lonnie Plaxico, drummer Vincent Ector—are similarly sharp and proficient. Laudable as they are, however, it is Gates' inimitable persona that carries the day. A sparkling and sophisticated anthology with no down time.
Pierre Giroux
Audiophile Audition
intriguing session for the hip — certainly not for the hipsters
Giacomo Gates is hip (cooler than cool) but he is not a hipster (a person who follows the latest fashions and trends). When you're hip, deciding what to record is a challenge since the tried and true might not always work. Gates avoids these song clichés for the most part, and delivers an intriguing session under the title What Time Is It?
Using his rich baritone to full effect, and after a spoken introduction about clocks and watches to What Time Is It?, Gates swings into " I Didn't Know What Time It Was" with guitarist Tony Lombardozzi giving the fret board a work-out, followed by tenor saxophonist Jerry Weldon showing his full tone. Todd Dameron's "On a Misty Night" is an expressive delight that after a run though of the verses, Gates takes off with a verbal ad lib based on these verses.
Back in 1957, when the doo-wop musical genre was in its ascendancy, The Rays recorded "Silhouettes" a simple four verse tune. Gates ups the tempo to a sprightly swinger with the story line broken by a tasteful tenor sax solo from Weldon  after the first two verses and then Gates follows with key changes on the last two verses which makes the trite story far more musically interesting. A rather lengthy poem by Tom Robbins called Meet Me In Cognito is the basis for Gates' tune "In Cognito" but with his own spin on the stanzas and order. With the band cooking behind him, Gates proves that poetic quatrains can swing.
Continuing with his cool frame of mind, Gates dives into a couple of unconventional numbers starting with Betty Carter's "I Can't Help It" followed by Eddie Jefferson's "Disappointed". On the former Gates strings out the ballad with a sensitive reading, with Weldon showing his reflective empathy with the theme. On the latter, it opens with four brief interacts with piano, guitar, a scat vocal, tenor sax, then Gates weaves Jefferson's lyrics in a clever fashion based on Charlie Parker's solo on Lady Be Good.
When given a choice in male vocalists between hip and homogenized, hip is generally the better choice.
Joel Roberts
NEW YORK CITY JAZZ RECORD
Giacomo Gates is an increasingly rare thing in today's music world: a real-deal jazz singer. No frills, pretense, flirtations with contemporary pop, hip-hop or electronics. Just classic, hard-swinging jazz delivered by an old-school hipster with plenty of stories to tell. He has a warm, smoky baritone and a Beat poet's mentality that recalls the late, great Mark Murphy. He's an adherent of the vocalese tradition started by Eddie Jefferson, King Pleasure and Jon Hendricks, but he handles sophisticated standards from the Great American Songbook with ease.
Gates has recorded albums devoted to Miles Davis and Gil Scott-Heron in the past, but his latest effort's only theme is music close to his heart—including by influences like Jefferson and Oscar Brown Jr., vocalese treatments of Lee Morgan and Tadd Dameron tunes, even a taste of his original poetry.
The album opens with spoken word musings on the nature of time, before Gates' savvy quintet joins in for a righteous reading of the Richard Rodgers-Lorenz Hart classic "I Didn't Know What Time It Was". He's perhaps most in his element on bebop burners like "Disappointed", Jefferson's reworking of Charlie Parker's version of "Lady Be Good"; propulsive "Spinnin'" (a riff on Morgan's "Speedball"); and "In Cognito", an energetic, scat-heavy setting of a poem by author Tom Robbins. Best of all is an update of Brown's late-night barroom confessional, "Somebody Buy Me a Drink", delivered with a boozy, world-weary wisdom, Jerry Weldon adding bluesy tenor saxophone flourishes. The rest of the fine quintet supporting Gates is pianist John Di Martino, guitarist Tony Lombardozzi, bassist Lonnie Plaxico and drummer Vincent Ector. But the spotlight is rightly on Gates, who proves himself an able keeper of the jazz vocal flame.
Bruce Lindsay
Jazz Journal – Great Britain
Giacomo Gates had an unusual route into the life of a jazz vocalist. A few years in construction followed by over a decade working outdoor jobs in Alaska is a stark contrast to the on-the-road and on-stage apprenticeships of influences like Mark Murphy and Eddie Jefferson. As a result, Gates' career didn't really begin until he was around 40 years old. Twenty-seven years later, What Time Is It? is his eighth album as leader and begs another question: why isn't he a star?
The cover photos reveal Gates' hipster image – black clothes, beret, moustache. The songs, the superb band and his command of vocalese fit neatly into that particular place. In many respects this album could have appeared 50 years ago, yet it still sounds fresh and innovative. The themes are universal – love, romance, time – but Gates also offers the occasional comment on modern life, with great humanity and warmth. On Somebody Buy Me A Drink he plays the role of late-night drunk with good humour: on Mr. Kicks he's one of Satan's servants, but naughty rather than pure evil: on Jefferson's Disappointed he's a spurned lover telling his tale to the melody and rhythm of a Charlie Parker solo.
Gates opens proceedings by rapping about clocks and time before moving smoothly into the laid-back swing of I Didn't Know What Time It Was. Gates' performance on this standard is the definition of cool, supported by an equally cool quintet with richly-toned solos from guitarist Tony Lombardozzi and tenorist Jerry Weldon. They may not be too sure about things chronological, but musically Gates and his compatriots very definitely know about time, and groove and swing.
Christopher Loudon
In Mark Murphy's wake, there are two contenders for coolest, sharpest male vocalist around.  One, Kurt Elling, is a household name, at least within jazz circles.  The other, Giacomo Gates, deserves to be.  Gates, now 67, waited until his 40's to pursue music full-time, but quickly emerged as a deeply insightful vocal acrobat, preternaturally skilled in scat and vocalese, and a first-rate storyteller.
Eight albums in, Gates turns his attention to time – not time signatures (a la Dave Brubeck) but physical time.
A spoken word intro provides a rapid–fire compendium of timepieces, from sundials to stopwatches, concluding with Gates' observation that "still, most people don't know what time it really is" – an ideal segue to a laidback reading of Rodgers and Hart's "I Didn't Know What Time It Was."  There after, the time connection becomes less literal, and Gates' focus shifts to romantic times, good times, flush times, hard times and such.   As usual, Gates draws upon his vocal heroes, with two nods to Oscar Brown Jr. – an aptly forlorn "Somebody Buy Me A Drink" and a peppery "Mr. Kicks" – and one to Eddie Jefferson, with a lithe "Disappointed," plus a mellow treatment of Betty Carter's "I Can't Help It."  The rest of the program travels from the 1950's – the pop hit "Silhouettes' and Tadd Dameron's "On A Misty Night" – to the present day: octogenarian bandleader and drummer Artt Frank's boplicious "A Few Bucks Ahead" and, to close, Gates' spoken word bookend, "Too Many Things," a warning that the time has come to get our priorities straight.
Suzanne Lorge
JUKEBOX DAYS
Giacomo Gates' new release, What Time Is It? (Savant), opens with an original spoken word piece on the ephemeral nature of time and segues into "I Didn't Know What Time It Was". This opener sets up Gates as a musical philosopher: in jazz standards he finds a gateway into something beyond mere romantic frippery. "Clocks on chains, so time won't run away," he muses. The opening track is the only oft-recorded vocal standard on the album; the remaining 10 tracks feature lesser-known tunes by Oscar Brown Jr., Tadd Dameron, Eddie Jefferson and Artt Frank.  In and about these tunes, Gates mixes in snippets of his own original verse and the final track, "Too Many Things", features one of his thought-provoking, full-length poems over improvised blues on piano and bass.
Gates uses classic jazz phrasing, laidback bebop scats and cool vocalese to get his message across; his deep, resonant instrument puts him in the same class as Mark Murphy, Kurt Elling and Andy Bey (these singers toured Europe together as The Four Brothers in 2004). Gates' voice in particular lends itself to the blues especially well, as on the Oscar Brown, Jr. tune "Somebody Buy Me a Drink", his raspy homage to the bottle. In pianist/arranger John di Martino, saxophonist Jerry Weldon, guitarist Tony Lombardozzi, bassist Lonnie Plaxico and drummer Vincent Ector, Gates finds supportive fellow travelers in his quest to find musical answers to life's perplexing questions.
Joe Lang
New Jersey Jazz
What Time Is It? (Savant – 2157) is the latest from vocalist GIACOMO GATES, and one hearing will convince you that it is time to listen to it again.  Gates is as hip as they come among vocalists, and he is abetted on this album by an equally hip quintet of Jerry Weldon on tenor sax, John di Martino on piano, Tony Lombardozzi on guitar, Lonnie Plaxico on bass and Vincent Ector on drums.  From the opening selection, 'I Didn't Know What Time It Was," preceded by the spoken word intro penned by Gates that gave this album its title, it was evident that he had produced another entertaining collection.  Probably the most unusual choice of material was his medium swing take on "Silhouettes," a 1950s hit for a relatively obscure doo-wop group named The Rays. Like everything that he sings, Gates turns it into a gem. All ten songs get primo Gates treatments, and that results in an album full of interesting moments, often infused with the irrepressible Gates sense of humor.  Giacomo Gates is a singular figure in today's jazz scene, and once again he delivers an irresistibly magic collection of jazz vocalizing.  (www.jazzdepot.com)
George Harris
The Jazz Weekly
Giacomo Gates sings like the life he's lived; he was a blue collar worker before changing careers to sing like a world wise sage. This latest album of his is simply delightful, almost like your hip uncle coming over for dinner and having a chat with you afterwards. He's joined by John di Martino/p, Tony Lobardozzi/g, Lonnie Plaxico/b, Vincent Ector/dr and Jerry Weldon/ts for a mix of stories, advice and observations on life through song.
He delivers a relaxed narrative on "I Didn't Know What time It Was," while sounding world weary with Weldon's languid tenor on "Somebody Buy Me A Drink." He's still got his elbow on the bar and sharing tales on "I Can't Help It" and gives a few hard luck quips on "A Few Bucks Ahead." He knows how to swing and deliver a hip groove with a conversant style that fits just right as Ector snaps away on "Spinnin' (Speedball)" and the hep "On A Misty Night" with he bops with the best, along with guitar and piano on "Silhouettes" and "In Cognito."  The advice doesn't end until the last song, with a last chat before departure on "Too Many Things." As a friend used to say, "Always take advice from a guy who walks with a limp." Gates sings like that guy.