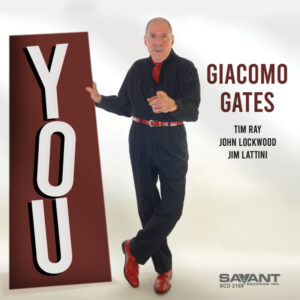 ---
"The context of many songs written and recorded, are composed by people with 'I' problems…but not these songs. All of these songs are about you." – Giacomo Gates
Jazz vocalist Giacomo Gates is blessed with a smooth and supremely expressive baritone voice and an all-inclusive musicality which encompasses a hipster-like coolness, a smattering of vocalese, an Eckstine-like seductiveness, the story telling ability of a griot, a firm footing in the blues and a sense of swing which is second-to-none. His performances can be quiet and full of insight (or innuendo) or be ebullient and joyful. Whatever style Gates may offer – be it sensitive, sensuous or syncopated – he infuses the music with an understated humor, wry cultural and social implications and an impish delight in surprising his listeners. You is a perfect example of Gates at his best with the vocalist putting together a program with a unique and decidedly altruistic leitmotiv. Here are 18 songs everybody knows and loves, arranged with creativity and wit and featuring Gates' gregarious delivery so that there can be no mistake, "it's all about you!"
Savant Records SCD 2189
Release Date: 1/28/22
Album Credits
Giacomo Gates – vocals
Tim Ray – piano
John Lockwood – bass
James Lattini – drums
Tracklisting
Exactly Like You
I Can't Give You Anything But Love
With Plenty of Money and You
I Didn't Know About You
The Nearness of You
It Had to Be You
I Thought About You
I Want to Talk About You
I Mean You
P.S. I Love You
Are You Havin' Any Fun?
I Remember You
You're Blasé
Everything But You
You've Changed
Since I Fell for You
I've Got News for You
You Never Miss the Water 'Till the Well Runs Dry
Reviews
Winning Spins by George Kanzler
Hot House Magazine April 2022
In these times, when music is often accessed by streaming individual tracks, concept albums have become a rare species, but artists continue to create them. This time two veteran jazz singers, Roseanna Vitro and Giacomo Gates, offer new CDs that are also exemplary concept albums. Roseanna's, a pandemic-delayed tribute to Charlie Parker's Centennial in 2020, celebrates Bird and features three other singers who were profoundly impacted by him. Giacomo's album is organized, in his words, "like chapters in a book." He notes that "many songs––written and recorded––are composed by people with 'I' problems … but not these songs. All these songs are about you."
You, Giacomo Gates (Savant), packs 18 tracks featuring or addressed to the pronoun "you" into an arc tracing love affairs from ecstatic beginnings to bitter endings, all in less than an hour. The songs range from classic pop standards, Broadway and torch to jazz through Duke Ellington, Thelonious Monk and Billy Eckstine, with R&B and soul via Ray Charles and Little Jimmy Scott. Giacomo's expressive range is as impressive as the variety of his repertoire. His versatility shines on the opener, "Exactly Like You," where he manages to swing effortlessly through partial choruses of half a dozen tunes that share the same harmonic structure, including "Take the A Train," "Watch What Happens" and "The Girl from Ipanema," also tossing in some of Giacomo's sui generis, exuberant scatting.
While he doesn't quite indulge in vocalese, Giacomo does create improvised, parlando-like verses to some songs, such as his story-tale introductions to "I Can't Give You Anything But Love" and "Since I Fell for You." And his reduction of the first chorus of "It Had To Be You" to repetition of the title line is a tour de force of nuancing different meanings from five simple words. He's also perfection at conveying the emotional resonance of titles, such as in his scat/words mix on "Are You Havin' Any Fun?" and languid take on "You're Blasé." The album is not just "chapters in a book" but a jazz vocal master class.
Ralph Mirello
All About Jazz
Baritone vocalist Giacomo Gates has just released his latest album You on the Savant label with an accomplished backing trio that includes the pianist Tim Ray, the bassist John Lockwood and the drummer Jim Lattini. Gates trained ear allows him to reinterpret music often overlooked or underappreciated by others. His inherent musicality and a unique hip approach to vocalizing lyrics allow this vocalist/storyteller to mine the hidden gold in the songs he chooses to sing.
Gates has previously released albums that follow a theme, like his The Revolution Will Be Jazz: The Songs of Gil Scott-Heron from 2011, Miles Tones: Giacomo Gates Sings the Music of Miles Davis from 2013, and What Time Is It from 2017. In each case Gates' keen intuition to reimagine the thematic music shows how a tuned-in artist can expand one's perception of the meaning of these classic compositions.
On You, Gates has chosen eighteen different compositions, most under three minutes in duration, to weave the thematic essence of this album- songs that emphasize someone else, someone whose significance is animated by the singer's delivery, someone who is familiar, one who the listener knows, or even someone like You.
Gates baritone is a warm, resonant instrument that he employs with an unpretentious sense of cool. His voice engulfs you with a revelation that this is a  knowing person. He has perceived wisdom in his voice that seems to come from a place where life has been lived and foibles have been experienced. Like a wizened sage who has been there and done that.
Gates sings the words of telling stories penned by songwriting team artists like Bob Russell and Duke Ellington, Ned Washington and Hoagy Carmichael, Dorothy Fields and Jimmy McHugh, Johnny Mercer and Jimmy Van Heusen, Coleman Hawkins and Thelonius Monk, and even Lucky Thompson to name just a few. These are all well-worn compositions that have been visited by others before, but Gates' delivery and the banter he creates inside this music offers a fresh perspective, a clarity to the listener about the nuances embedded in this music. Listen to Giacomo Gates singing and you're taking a course in life with Socrates or maybe more likely Lenny Bruce. To this, Gates vocal approach is a passing of the musical baton that he carries from some of his vocalist heroes like Babs Gonzales, Jon Henricks, Mark Murphy, and Eddie Jefferson.
Nicholas F. Mondello
All About Jazz
It is an interesting linguistic and grammatical fact that the word "I," capitalized and without its lower case pal's head-dot, appears only in the English language. It is also the most frequently seen word residing in popular song titles. With You the high priest of hip, Giacomo Gates, turns the tables on that not-so-lonely letter and salutes I's near-runner up, "You" with a "book" of 18 genuinely swinging "Yous."
As a jazz singer, Gates has historically been in a sumptuous love affair with words. On over a dozen albums he's demonstrated that he's a "vocalese" vizier and scat-singing jongleur. On this album—arguably his best effort to date—he and a very involved rhythm section run through "You" tunes in an experience that brings to mind a time when lyrics had a more poetic aspect and pungency; when a vocalist fronting a rhythm trio was a most common format, and when track lengths were produced within strict time limits.
Gates launches the session with an up-tempo take on "Exactly Like You" with surprise contrafacts and scat. His rhythmic play with melody parlayed with his shrewdly toying with a lyric's presentation is at the forefront on "How Could I Know About You" and "It Had to Be You." His takes on "I Want to Talk About You," "P.S. I Love You" demo the vocalist's dynamic range and ability to wring emotional juice from a ballad's lyric. Thelonious Monk's jazz classic "I Mean You" offers a feisty piano solo by Tim Ray following Gates' pointing the finger. A verbal prologue prefaces a very soulful take on the Lenny Welch 60's hit, "Since I Fell for You."
While there are well-known GAS workhorses here, additional gems emanate from You that haven't been heard in ages, i.e., "Are You Havin' Any Fun?" and Ray Charles' "I've Got News for You," (both with scatted solos) and the Mills Brothers hit, "You Never Miss the Water 'Till the Well Runs Dry." All are performed with superior style, subtle humor, and soul. Those unique selections also point to brilliant production savvy.  The dynamic rhythm section is completely tied into Gates' energies and buys in whole hoagie. They're obviously having a ball. Pianist Tim Ray is outstanding, ghosting Gates and slyly answering and feeding the leader with great taste and flair. Bassist John Lockwood is rock- solidly swinging throughout. Drummer James Lattini is hands-down the perfect trio presence. When Gates, as he frequently does, toys with the time or throws in melody-altered triplets, the entire section embraces and joins the parade. Rest assured this effort is no novelty. There's everything here that ultimately results in a most enjoyable experience. Simply put: You is an ideal way to cure your cabin fever, COVID Blues, or whatever ails you.
Marc Meyers
JazzWax
It's no secret that Giacomo Gates is among my favorite male jazz singers today. His voice is meaty thick and his jazz sense is limber and always happening. He swings and bops with the confidence of the masters. Out today is Gates's new album, entitled You (Savant), a generous collection of 18 songs that have the word "you" in the title. He's backed by a smart trio and he gives each song an (Eddie) Jeffersonian spin complete with a flatted fifth and relaxed stride.
Gates's previous albums have been knockouts, among them The Revolution Will Be Jazz: The Songs of Gil Scott-Heron (Savant, 2011), Miles Tones (Savant, 2013), Everything Is Cool (Savant, 2015) and What Time Is It? (Savant, 2017). Test drive them at Spotify.
You'll find You here and at Spotify. As with previous releases, Gates on his new You gives each melody a hip flip. For example, here's The Nearness of You…
Recently, I slipped the cats in the bag and caught up with Gates for a JazzWax back and forth:
JazzWax: Where did you grow up and what was your first exposure to music?
Giacomo Gates: I grew up in Bridgeport, Ct. in the 1950s and early '60s. I didn't wake up one day and decide to become a jazz singer. I was involved with music as a kid, and my start was a song I sang at age 6 in front of a class of tap dancers. I didn't want to dance, so I chose to sing. I took guitar lessons from age 8 to 15, and played and sang into my 20s for my own enjoyment. I took gigs here and there but never chased it until later.
JW: What was the first jazz album you bought?
GG: The Dave Brubeck Quartet's Time Out in 1960. I was intrigued by the album's unusual time signatures. My next LP was a Thelonious Monk album. Though the songs were in 4/4 time, the music was completely different than anything I'd ever heard. Monk really caught my ear.
JW: What did your dad and mom do for a living?
GG: My father was a exempt from World War II because he was a welder and worked instead as a welder on military aircraft. After the war, he was discharged, he played violin and worked on European cars with magnesium frames and aluminum bodies. He built the prototype for Saab—the Formula S car—and later became an artist and made large metal sculptures. My mother was a furrier and seamstress. I was an only child. [Photo above of a sculpture by Giulio Agostini, Giacomo Gates's father, commissioned for the exterior facade of the Santa Barbara Medical Center in Santa Barbara, Calif., courtesy of Giacomo Gates]
JW: When did jazz really hit you?
GG: While studying guitar. My teachers were jazzers who exposed me to the American songbook. That led me to musicians such as Dexter Gordon and Chet Baker, who played standards and improvised on them. Living in Bridgeport, I could pick up jazz radio stations from New York and other local markets that played the music. Also, TV cartoons and adult variety shows had jazz all over them when I was a kid.
JW: Whose albums resonated?
GG: Classical and big-band records played in our house while growing up. I also was aware of Duke Ellington, Count Basie, Fletcher Henderson, then came Monk, Lester Young, Charlie Parker and their disciples. Then Sonny Stitt, Dexter Gordon, Miles Davis, Hank Mobley, Lee Morgan, Jan Savitt, Sauter-Finegan, Harry the Hipster, Babs Gonzales, Eddie Jefferson, the Ink Spots, Cab Calloway, Lambert, Hendricks & Ross, Joe Williams, Jimmy Scott, Jackie Paris, along with Sinatra, Dean Martin, Al Hibbler, Louis Prima, Louis Armstrong and Perry Como. Plus Martha Raye, Carmen McRae, Sarah Vaughn, Maxine Sullivan, Betty Carter. I even dug Steve Lawrence and Edie Gorme. The list is endless.
JW: What was Bridgeport like when you were a kid?
GG: My neighborhood was still being developed but I lived within walking distance of stores and schools. Many roads were still gravel, and no catch basins or sewers had been installed yet. The city started to put them in when I was about 5 or 6, in the mid-1950s. They used big cable shovels, bulldozers, dump trucks and hard-working laborers. There was a lot of commotion and noise, a ballet of iron, dirt and dust, all seamlessly executed. I loved it.
JW: Where did you attend college?
GG: I went to Norwalk Technical College, in Ct. I studied mechanical engineering. I was interested in building roads, tunnels, bridges and landing strips, but I didn't have a solid math background, so I dropped out.
JW: Did all of that heavy construction in your neighborhood have an impact on you?
GG: I think so. After I left college, I had a friend whose uncle was a superintendent for a construction company. He hired me. I started as a laborer, moved on to a driver of tractor-trailers, and then to heavy equipment. After a few years of rebuilding roads in Connecticut, I wanted to go where the work was starting from the ground-up. In 1975, I heard about the Trans-Alaska Pipeline being built, so I bought a one-way ticket. I planned on staying a year but stayed for 12, building roads, dams and landing strips. Then there were another few years in between bouncing around on dirt jobs in Washington and Arizona.
JW: Were your parents supportive of your career choice?
GG: Which career? By the time I started working construction, my parents had split up. My mother was just happy I got a job. When I left Alaska, I was in my late 30's, so approval or support didn't matter. They knew by then, I wasn't interested in the status quo.
JW: What were you interested in?
GG: While in Alaska, I had been considering some kind of change but I wasn't sure what. When I attended the Fairbanks Summer Arts Festival, I sang in a few workshops. I was immediately encouraged by a few instructors and performers, and jazz historian Grover Sales. That's when I realized I had been in Alaska long enough, and my interest in music was revived. It was time to go.
JW: You seem as if you always had a natural talent for singing. There's a wonderful ease to your approach.
GG: If one is given a gift, it doesn't shine unless one polishes it. I work very hard at whatever I want to do well. I had taken guitar lessons for 7 years but I was a kid and easily distracted. Singing was easier for me, and I knew I had ears and a good sense of time. When I returned to the East Coast from Alaska, I decided to pursue singing professionally.
JW: Did you take singing lessons?
GG: A couple, but they were short-lived. One instructor asked me to sing something. I did, a Charlie Parker solo with lyrics by Eddie Jefferson. When I finished, she said to me, "Well, you're very relaxed, and you breathe in all the right places, but you sound like a tenor saxophone." I responded, "Thank you." She replied, "I didn't mean that as a compliment." With that, I knew I was in the wrong place. I then took some piano lessons, not to play piano but to hear music better.
JW: Bebop was a favorite of yours, yes?
GG: I wouldn't know what other choice to make, regarding what music to sing. For me, jazz is the most challenging, most musical and the most fun. Most important, it feels good. Bebop was clearly a strong influence.
JW: Who turned you on to bop?
GG: No one, really. I didn't know that what I was listening to was bebop. I was a kid. I listened to a lot of radio, bought records and grew up digging jazz as well as R&B and soul. I was never a rock fan, even though I went to lots of concerts as an assistant to a photographer for Rolling Stone magazine. I really dug the jazzers—the clothes, the lingo, the so called lifestyle. I particularly dug improvisers like comedians Lenny Bruce and Lord Buckley.
JW: How long do you work on a standard to give it the Gates feel?
GG: I sing a tune in several keys, at several tempos until the key, the "color" I want and the tempo feel like they fit the lyric and story. Tempos are interchangeable. The tempo lands where it feels right. I imagine that the story or text of the tune is a movie that I'm a part of. Whether I'm singing to someone in particular or to myself, I ask myself, "Where are you, who are you speaking to, and what time is it?" I live with a song a long time, dig deep and try to sing the truth. It's personal.
JW: How did you come up with the "you" concept for your new album?
GG: All of the songs are about the proverbial "you," not me. The bigger concept is that these songs and the order they appear in are like chapters in a book. It's a story about people meeting, being attracted to each other, infatuation, falling for one another, wanting to be with each other, and willing to do anything to make it happen.
JW: Who is accompanying you?
GG: Top-notch musicians, Boston cats: pianist Tim Ray, bassist John Lockwood and drummer Jim Lattini. All heavyweights with deep and long resumes. I was introduced to that trio about 15 years ago, by Bob "Jocko" Arcidiacono, who booked The Sahara Club, in Methuen, Mass. From their first set on, it was a wonderful ride. I hoped then that I would someday get to record with them. When the opportunity presented itself, Savant Records was supportive and it all came together. The trio on this record is heavy, with deep swing, collective effort and great taste.
JW: On each of the songs, you clearly insisted on bringing a fresh feel. Did that take time to think it through?
GG: Yes, and it's not about "thinking it through." It's more like living with it and feeling it. I have always respected a song's true melody, but I wanted to get right to my sound. I like to sing the words more than the notes. It takes time to truly interpret and not to just decorate.