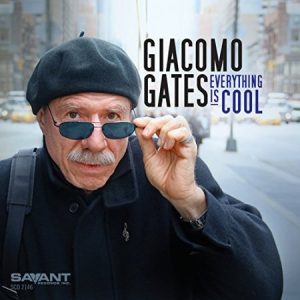 ---
Release Date: JULY 24th 2015
Savant Records
Reaching #8 on JazzWeek Playlist (national jazz radio airplay) and in the Top 20 for three months!
Giacomo Gates approaches jazz singing with a showman's poise and an aficionado's zeal. With his deep, cognac baritone and his vintage-hipster lexicon, his phrasing and his bearing, he upholds a distinctly masculine ideal of deceptively easy nonchalance. Gates is known as the modern day heir to Eddie Jefferson, the godfather of vocalese. Here he uses the style sparingly, but to great advantage. never showboating by using the challenging technique. Gates' considerable chops are always at the service of the song. Backed by his go-to pianist, John di Martino and guitarist Tony Lombardozzi leading the rhythm section and Grant Stewart out in front on saxophone, Giacomo sings and swings his way through a dozen tunes – some familiar favorites, some rarely heard gems. He may be soft and subtle or he may be hip and humorous but one thing Giacomo Gates is not, is predictable.
Album Credits
Giacomo Gates – Vocals
Grant Stewart – Saxophone
John di Martino – Piano
Tony Lombardozzi – Guitar
Ed Howard – Bass
Willard Dyson – Drums
Tracklisting
1. Everything Is Cool
2. If I Were You, Baby, I'd Love Me
3. When Lovers They Lose
4. Social Call
5. Hazel's Hips
6. Almost Blue
7. Take Five
8. Who Threw The Glue
9. Here Today Gone Tomorrow
10. Please Don't Bug Me
11. All Alone
12. Well You Needn't (It's Over Now)
Reviews
George W. Harris
Jazz Weekly, September 21, 2015
Here is the anti-Buble. Giacomo Gates is no slick and polished pretty boy; he's been a bar bouncer and has run a bulldozer for a living. That alone should qualifier as a guy with a story to tell. Here, he teams with some kindred spirits in Grant Stewart/sax, , John di Martino/p, Tony Lombardozzi/g, Ed Howard/b and Willard Dyson/dr through a series of musical stories that mix melody with moxie. Stewart's tenor and Lombardozzi's guitar serve as a perfect frame on the suave "If I Were You, Baby, I'd Love Me" while he goes melancholy with diMartino on "Almost Blue." The team shuffles off to Buffalo on the poetic "Who Threw The Glue" while delivers soul that is as real as corduroys on "Hazel's Hips." Speaking of hip, the closing "Well You Needn't/It's Over Now" feels like an old leather jacket, warm and comfy with an attitude. Gotta love this guy!
dustygroove.com
Things are plenty cool when Giacomo Gates is around – as the singer's a real old school vocalist, with a hip sound that takes us back to the best modes of the postwar years! Gates has never fully gotten his due, but he's a contemporary singer that we'd place in a legacy that includes Eddie Jefferson, King Pleasure, and Jon Hendricks – and, like all of those, is a vocalist who brings a hell of a lot of personality to his presentation of the material – rightly knowing that a jazz singer doesn't just swing, but finds a way to use his voice with the presence of an instrumental giant on the trumpet or tenor! Speaking of tenor, Grant Stewart blows in the small combo that backs up Giacomo – which also includes John DiMartino on piano and Tony Lombardozzi on guitar. Titles include "Everything Is Cool", "When Lovers They Lose", "Social Call", "Hazel's Hips", "Take Five", "Almost Blue", "Please Don't Bug Me", and "Who Threw The Glue".
Ralph Miriello
notesonjazz.blogspot.com
The baritone Giacomo Gates has released his latest album aptly titled Everything is Cool , unearthing once forgotten gems from the be bop-cool era, some of which epitomize authentic hip sentiment. On the cover, the perennial hipster is doffed in his black beret peering at the camera with a tip of his shades, a throwback to the beat era sense of cool. Opening with Babs Gonzales's "Everything is Cool" he croons "Twice as high as birds can fly, everything is cool." Digging deeper into the Gonzales repertoire, Gates does his version of the slow torch song "Here Today Gone Tomorrow" which he delivers in his lower register with a heartfelt sigh. On "When Lovers They Lose," another Gonzales original, Grant Stewart's sexy tenor looms large as Gates sings with a matter-of-fact resignation of one who knows love lost.
On the confidently hip "If I Were You Baby, I'd Love Me" Gates tells the tongue in cheek tale of an unabashed narcissist utilizing a slow sauntering blues as the vehicle. He is backed up by a solid group of journeymen musicians led by pianist John Di Martino, guitarist Tony Lombardozzi, bassist Ed Howard, saxophonist Grant Stewart and drummer Willard Dyson. Check it out here:
Gates reprises two swingers"Social Call" and "Hazel Hips" from his regular repertoire with some fine ensemble work by the group. The surprising choice of Elvis Costello's "Almost Blue" is given a simmering torch song approach and Paul Desmond's "Take Five" finds Gates singing yodel-like ala vocalese to the
Iola Brubeck lyrics with Stewart and Dyson deliver strong performances on this classic.
Gates own "Who Threw the Glue" is a treasure trove of hipsterism and its "U Bop Shebam" lyrics, bluesy swing and call out chorus that shouts the names famous jazz musicians at the coda.
A swinging rendition of trombonist Frank Rosilino's humorous "Please Don't Bug Me" is the ultimate cool cat song. A brusque dismissal of a lover whose time has come, Gates nonchalant delivery is nearly perfect with some noteworthy solo work by Di Martino, Lombardozzi and the buoyant bass of Ed Howard.
What could be more hip than taking comedienne Lenny Bruce's "All Alone" and making it your own. Gates hip speaks these lines with heartfelt but acerbic seriousness, like a beat poet on a Greenwich village stage, as pianist Di Martino deftly adds poignant accents.
If conjuring up the spirit of Lenny Bruce and Babs Gonzales weren't hip enough for you, Gates saves Monk's "Well You Needn't" for his finale, exquisitely navigating the quirky melody with his pliant voice.
Mike Jacobs
KIOS Jazz CD of the Month
Giacomo Gates is not only one of the leading practitioners of vocalese, he takes material from a wide range of composers and makes it his own. Whether it's uptempo bop , ballads or blues, Gates' intimate style gives you the feeling he is in your living room singing just to you.
He pays homage to his vocal heroes on his new disc "Everything Is Cool". Jon Hendricks, Babs Gonzalez, King Pleasure, Eddie Jefferson and others are among the legendary vocalists that are honored in this collection. Gates previously paid tributes to Gil Scott-Heron and Miles Davis.
Gates is joined by his longtime pianist John Di Martino, saxophonist Grant Stewart, guitarist Tony Lombardozzi , Ed Howard on bass and Willard Dyson on the drums. Highlights include the bluesy " If I Were You Baby, I'd Love Me", a seldom heard tune composed by Timmie Rodgers for Nat Cole. The well known "Social Call" and "Take Five" and a very effective rendition of Elvis Costello's "Almost Blue", a number that is becoming a jazz standard among singers these days.
Gates once again has delivered another gem. A diverse set of songs with his warm baritone and sympathetic musical backing that ranges from romance to humor to wistfulness that is a cut above most vocal jazz albums today.
NICHOLAS F. MONDELLO,
Allaboutjazz.com
Federal regulations require food and beverage manufacturers to provide "Nutrition Facts" on all package labels. They want you to know what you're digging into. Now, if recordings had that same requirement, Everything Is Cool from Giacomo Gates might read this way: "Ingredients: 100% genuine talent and devotion to the true art of jazz vocalizing. All natural and swinging ingredients. No artificial jive, smooth jazz, or ju-ju. Organic, filled with mojo, and very much the Real Deal, Baby!"
You see, Gates is an adoring acolyte to one of jazz's most honored traditions — the hard-swinging male jazz vocalist. No smooth, well-coiffed crooner or re-homogenized "package," this blues-collared Cat carries the torch that "Dippermouth" lit when he opened his and began to scat on Perdido Street. That flame was handed down, flickering through artists such as Babs Gonzales (whom Gates highlights here), Jon Hendricks, andEddie Jefferson. However, Gates drives his own iron in this superior effort and this one's as cool as it gets.
The selections, perfectly selected for Gates hip style, tip the beret rakishly to Mr. Gonzalez ("Everything Is Cool," "When Lovers They Lose," "Here Today and Gone Tomorrow"), as well acknowledging other boy hipsters, including Oscar Brown Jr. ("Hazel Hips"), Lenny Bruce ("All Alone"), Frank Rosolino ("Please Don't Bug Me"),Thelonious Monk (Well You Needn't"), Dave Brubeck ("Take Five"), et al. The repertoire is an acknowledgement and fine presentation of great jazz material and is testimony to Gates' enormous versatility, dramatic range, and even hip humor ("If I Were You Baby, I'd Love Me").
Vocally, Gates is a ballsy baritone who offers more swings than a big city park. His rhythmic sense -one festooned with syncopated upbeats?is swingingly instrumental. He can taffy-pull a beat's heart with the best of them and does so here. And, his lyric delivery has a speak-song flair to it which provides a pungent, yet attractive seasoning, bringing those black dots on the staff to jazz life. Gates' dramatic sense, one robust and filled with obvious life-experience overtones, is evidently displayed on the superb balladic material (Bruce's "All Alone" and Elvis Costello's "Almost Blue").
The accompanying crew here is indeed up for the date, with guitarist Tony Lombardozziand pianist John J. DiMartino (both frequent Gates sidekicks) standing out, but not on anyone's toes. Saxophonist Grant Stewart is a hair reserved here, but covers his solos admirably. Bassist Ed Howard and drummer Willard Dyson provide whiplash momentum for the stagecoach when needed and offer tasteful textures when not.
Giacomo Gates may not have his dough, notoriety, or "square"-ish black-rimmed glasses, but, after digging what's richly served up in Everything Is Cool, that other Gates might very well be in the market for shades, a black beret, and finger-popping lessons. Dig it.
Track Listing: Everything Is Cool; If I Were You, Baby, I'd Love Me; When Lovers They Lose; Social Call; Hazel's Hips; Almost Blue; Take Five; Who Threw the Glue? Here Today and Gone Tomorrow; Please Don't Bug Me; All Alone; Well You Needn't/It's Over Now.
Personnel: Giacomo Gates: vocals; Grant Stewart: saxophone; John Di Martino: piano; Tony Lombardozzi: guitar; Ed Howard; bass; Willard Dyson: drums.
Record Label: Savant Records
Style: Straight-ahead/Mainstream
Christopher Loudon
Jazz Times, September, 2015
A latecomer to jazz as a vocation, Giacomo Gates cut his first album 20 years ago, at age 45, and has since recorded just six more as a leader. But what he lacks in quantity, he's more than made up in quality. A fervent acolyte of bebop, scat, and vocalese masters, Gates has dotted his albums with tributes to such heroes. Everything Is Cool makes his deepest dive into their collective songbooks, including selections by such seminal figures as Babs Gonzales, Oscar Brown Jr., Jon Hendricks, and Frank Rosolino, with Brubeck and Monk added for
good measure.
As he enters his mid 60's, Gates' phrasing has grown a little looser, his ranger narrower. Still, he maintains one of the finest interpreters around, fully on par with Mark Murphy and Kurt Elling. Oddly, given the album's focus on intrepid vocal adventurers, Gates plays it straighter than usual, adding only the occasional scat chorus and just one meaty vocalese, stretching the center of Monk's "Well, You Needn't."
Gonzales is provided the most attention, Gates covering three of his tunes, including the breezy, Jimmy Van Heusen-worthy title track. Rosolino's "Please Don't Bug Me" is a vengeful delight, while Timme Rogers' bluesy "If I Were You, I'd Love Me" (written for Nat Cole) recalls the laidback sophistication of Matt Dennis. Most curious (and perhaps coolest of this ice-cool set) is "All Alone," a bitter slice of beat-poetry payback written by comic Lenny Bruce in 1958, after his wife left him.