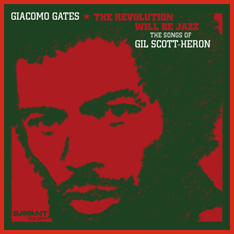 ---
Savant Records
Reaching and sitting at #1 for 6 weeks on JazzWeek Playlist!
Album Credits
Giacomo Gates – Vocals
John DiMartino – Piano, Whistling
Tony Lombardozzi – Guitar
Lonnie Plaxico – Bass
Vincent Ector – Drums
Claire Daly – Baritone Sax, Flute
Tracklist
1. Show Bizness
2. This Is A Prayer For Everybody To Be Free
3. Lady Day And John Coltrane
4. Legend In His Own Mind
5. Madison Avenue
6. Gun
7. Winter In America
8. Is That Jazz
9. New York City
10. It's Your World
Reviews
Christopher Loudon
JazzTimes Magazine, October 2011
If poet-cum-prophet Gil Scott-Heron taught us anything, it was to find your own truth. Which is precisely what Giacomo Gates does on this 10-track foray into the vast and fertile jungle of Scott-Heron songs, sermons and soliloquies. Gates could have covered pieces like "The Revolution Will Not Be Televised," "Johannesburg," "We Almost Lost Detroit," "Angel Dust" and "B-Movie," all among Scott-Heron's best works, none of which have lost their sting.
But Gates travels deeper to unearth equally profound pieces that speak directly to, and for, him. These extend from jazz-centric musings-the impassioned "Lady Day and John Coltrane" and the slyly crafted condemnation of imposed boundaries, "Is It Jazz"-to wider-angle themes like "Show Bizness" and "New York" and such broader, hot-button topics as gun control ("Gun"), consumerism ("Madison Avenue") and cultural decay ("Winter in America"). Minimalist settings appropriately and effectively keep Scott-Heron's words in the spotlight. Gates' voice, akin to silk-backed sandpaper, suits the material ideally, particularly on the uplifting "It's Your World" and the gently hopeful "This Is a Prayer for Everybody to Be Free." It's rather like the jazz equivalent of Orson Welles reciting Shakespeare.
Given its timing, this album will likely be branded a tribute, though it was conceived and recorded well before Scott-Heron's death this past May. Better to think of it as personal benediction, and proof that Scott-Heron didn't speak for everyone but for every one.
James Nadal
AllAboutJazz.com
September 29, 2011
An omnipresent cloud persistently hangs over any tribute album – that the music will be compared to the original. Even though this might seem unfair, it's a fact. Knowing this, jazz vocalist Giacomo Gates dares to venture into the distinctive songbook of Gil Scott-Heron with The Revolution Will Be Jazz, and comes out the other side with a remarkable record.
Gates cautiously handpicked the songs from Scott-Heron's repertoire, and wisely does not attempt an imitation or duplication, but performs collective interpretations with his own characteristic baritone styling and phrasing.
The record opens with the swinging "Show Bizness," where Gates displays a confidence which permeates throughout the record. This vocal attitude is highlighted on the classic "Lady Day and John Coltrane," given a laidback treatment with room to set the proper mood, allowing the band to stretch out. The humorous and satirical tracks, "Legend in his Own Mind" and "Madison Avenue," work well with Gates, who delivers as if in a live setting, with ease and comfort.
Gates mentions in the liner notes that the songs "Gun" and "Winter In America," realistic views on modern social problems, are just as pertinent and relevant today as when first released. He takes on these two with a vengeance and maintains the vitality of the message, a key element in Scott-Heron's writing. The sincerity in "New York City," with its autobiographical connotations, might just be the pivotal song on the record where Gates really shines, crooning the subtle intent of the lyrics.
It took a lot of courage to decide to perform an entire record of songs by Scott-Heron, a genuine visionary and revolutionary figure in music. Gates was approached by producer Mark Ruffin for this project, based on his ability to convey the songs with authenticity, originality, and due respect to this legend of a songwriter. The Revolution Will Be Jazz displays all of these requirements and is a verification of just how important this music is.
Ralph A. Miriello
Huffington Post
August 24, 2011
The musician/poet/troubadour Gil Scott-Heron, who in the early 70's was influential to scores of people who heard his cool brand of hip music and absorbed the pithy observational wit of his lyrics, was being rediscovered recently when he released a new album I'm New Here in February of 2010. His rediscovery was crushingly cut short when Mr. Scott-Heron unexpectedly died in May of this year at the age of 62.
I was strongly influenced by the messages that Mr. Scott-Heron offered in his raspy, baritone voice that spoke with an inner wisdom that was somehow lost to many around him. His music shared a jazz and blues sensibility that I was prone to like to be sure, but it was his lyrics that were poignant and unforgettable. He spoke of things that others would only think and he did so in a beguiling manner that transcended time. I was not alone in my admiration. Producer Mark Ruffin, who is the program director of the Sirius/Xm Satellite channel Real Jazz, as well as a jazz journalist himself, was similarly struck by the music and lyrics of Mr. Scott-Heron. Ruffin envisioned an album of the poet's music, The Revolution Will Be Jazz , as an homage to the man whose later years were filled with drug related hardships and conflicts. Mr. Ruffin controversially chose the jazz baritone Giacomo Gates for the project and was anxiously waiting to present the finalized version to Scott -Heron when the singer suddenly died. If anyone had trepidations about Ruffin's choice for this project, Mr.Gates grasp of the music and his performance here has certainly put all doubts to rest.
Giacomo Gates is an authentic jazz vocalist and student of the jazz tradition. He has studied the works of vocalists like Jon Hendricks and Eddie Jefferson and has absorbed and broadened some of their techniques including scatting, vocalese and mimicking instruments with his voice. Gates has a smoky, slightly gravelly baritone voice with an unerring sense of swing. He is a master storyteller, often choosing music that offers some comic relief. It is precisely Mr. Gates' storytelling ability that makes him so well suited to the music of Mr. Scott-Heron. Gates wisely chose from Mr. Scott-Heron's repertoire those songs that tell a story, songs that spoke to him.
The opening number is a swinging case in point. "Show Business" certainly speaks to Mr. Gates. He has been plying his trade for some time and knows the sentiments of the song that Scott-Heron sardonically wrote about… "show business… got you hanging out in places you got no business." The song cooks, with pianist John Di Martino tinkling his keys in deft accompaniment and guitarist Tony Lombardozzi offering a tasty solo.
Gil Scott- Heron's hopeful "This is a Prayer for Everybody to be Free" is sung by Gates in a sauntering, heartfelt and earnest way. Claire Daly's baritone sax solo is deep and raspy and compliments Mr. Gates scatting brilliantly.
Mr. Gates vocal interpretation of "Lady Day and John Coltrane" steals the show. Lonnie Plaxico's plangent bass lines carry the tune beautifully, as drummer Vincent Ector holds the rhythm down. Mr. Gates is in top form here, as he seems to be in his element with the inherent flow of this song. Pianist Di Martino intersperses Latin influenced rhythms in his fluid solo.The coda finds Mr. Gates quietly whispering the last of the lyrics.
Another inspired performance is "Legend In His Own Mind." Gates is superlative when he has a story to tell and what better lyrics to work than lines like "…he has more romances than Beverly has Hills." Gates loves to embellish on the story line as he does on this one, and the group simply gets off on grooving behind him. This group of veteran players offers top notch accompaniment throughout as Mr. Gates ends the song in a beautifully expressive rising coda.
Seemingly plucked from the scripts of the series Mad Men, "Madison Avenue" is one of those stealthy Scott-Heron songs that laments about the way American business manipulates people to consume through clever advertisements. With lines like they can "…they can sell tuna to the Chicken of the Sea." its not hard to see why Gates chose this one. His soulful baritone takes this bluesy rendition to the limit with his hip insider take on the sentiment as the band pushes the song nicely.
Gates relishes the lyrics of Scott-Heron's "Gun," with Tony Lombardozzi starting the song with a funky guitar line that could have been a lead in for James Brown. He paces the song beautifully letting the funk seep into the pours of the song while still maintaining his cool delivery of the potent lyrics. You can feel the band having fun with the infectious funky groove.
One of my favorite Gil Scott-Heron song's is his great "Winter in America." Perhaps because the original is so close to my heart I can't bear to hear it played anyway but the way its seared into my consciousness. Gates chooses to slow the song to a crawl which I find a little unsettling. Claire Daly adds some nice flute to the mix.
Lonnie Plaxico's walking bass line leads us into "Is That Jazz," a song that is tailor made for Mr. Gates sensibilities as he swings with ease and does his most adventurous foray into vocalese on the album. Gates loves to speak of his jazz heroes. He has been influenced, by his own admission, by horn players like Dexter Gordon, Lou Donaldson and Lester Young, When he uses his voice as an instrument it is clear he has a horn player's mindset. Lombardozzi's guitar accompaniment is especially tasteful as is his solo work.
"New York City" was Scott-Heron's slightly sarcastic homage to the city from someone who loved it warts and all. Gates sings it like he too loves the Big Apple. He makes it into a slow love ballad that breaks occasionally into a more frenetic section that is symbolic of the city's own schizophrenic nature. "New York City, I don't know why I love you, but its real."
On the finale, the uplifting "It's Your World," Mr. Gates sings with his own sense of promise and sincerity…
The Revolution Will Be Jazz is certainly a noble homage to Gil Scott-Heron and his work. Mr. Ruffin should be proud of the results. With this album Mr. Gates has successfully ventured into new ground. Taking a step back from the classic American songbook that has been his staple and expanding his repertoire-in essence creating a statement of what is to be included in the new American songbook. I for one agree with his choices.
Steve Greenlee
Boston Globe
August 16, 2011
No male jazz singer has a bigger gap between talent and fame than Giacomo Gates. A former construction worker who started his singing career late in life, Gates has released one excellent album after another, yet few people have heard of the guy. With his strong baritone and keen sense of timing, he reshapes standards at will, inserting both vocalese and scatting where no lyrics exist. He tackles more recent material on his new album, which was not intended to be a posthumous tribute; Gil Scott-Heron died in May, but Gates recorded these songs last fall and winter. In the course of these 10 tunes, Gates reveals new insights into Scott-Heron's oeuvre, from uptempo pieces like "Show Bizness" to slower numbers like "Winter in America." Incisive (and still relevant) social commentary abounds, of course. Gates's distinctive delivery – singing marginally below pitch, bending notes downward – is on display throughout, and his comfort with scatting is abundantly clear on tunes like "Legend in His Own Mind." (Out now)
Jay Mazza
The Vinyl District
August 10, 2011
When Gil Scott-Heron passed away this past May, the world lost a unique voice that introduced a new way of performing, which influenced hip-hop from as far back as the late 1960s. His blend of spoken world poetry, jazz, soul and the blues exposed listeners to a consciousness that was far ahead of its time.
Though his most famous song, "The Revolution Will Not Be Televised," is known across the world, Scott-Heron was also a keen observer of the human condition outside of politics. It is mostly those more intimate songs that the great vocalist Giacomo Gates chose to include on this delightful new album.
From "Show Business" and "Legend in His Own Mind" to "Madison Avenue," Gates' deeply soulful voice exposes the lyricism and insight contained within Scott-Heron's compositions.
Gates is known as the modern day heir to Eddie Jefferson, the godfather of vocalese. Here he uses the style, which is often compared to scat singing, to great advantage. But he never showboats using the challenging technique. It is always in service of the song. Because Gates chooses to let the songs speak for themselves, he reveals himself as a true fan of Scott-Heron.
Though Gil Scott-Heron wasn't best known for his singing abilities, he had a unique way around a melody. Gates demonstrates the intrinsic genius in these compositions by bring world-class talent to the production, which is clearly a labor of love. I should also mention the contributions of the highly sympathetic band that Gates and the producer, Mark Ruffin, have assembled. Anchored by the in-demand studio bassist Lonnie Plaxico and Vincent Ector on drums, the group, which also includes the incredibly tasty guitarist Tony Lombardozzi, fleshes out these songs with aplomb. Special mention should also go to the pianist (and whistler) John Di Martino and the flautist Claire Daly who make "Winter in America," one of most prescient songs Scott-Heron ever wrote, a tour-de-force.
If you love Gil Scott-Heron you will love this album.
Marc Meyers
Wall Street Journal
Friday, July 15, 2011
WHEN GIL SCOTT-HERON died in May, debate ensued about whether the late singer-songwriter was rap's father, soul's conscience or jazz's last storyteller. With the release July 19 of singer Giacomo Gates's "The Revolution Will Be Jazz: The Songs of Gil Scott-Heron," the last description seems to fit best.
At the dawn of the 1970s, Mr. Scott-Heron pioneered a recitative vocal style known as talk-singing. Like Marvin Gaye, Curtis Mayfield, Sly Stone and other socially conscious black vocalists of the period, Mr. Scott-Heron forged his songs from the headlines, thematically focusing on inner-city decay and the worrisome future of the black family and community. But unlike those of his peers, most of Mr. Scott-Heron's singles barely made it onto the charts. Instead, his albums found a home on the newly emerging FM radio band.
Mr. Gates, is a sonorous baritone who fully grasps Mr. Scott-Heron's soulful essence and hope-laced lyrics. A powerful jazz vocal stylist in the tradition of Eddie Jefferson and Mark Murphy, Mr. Gates sensitively navigates the album's 10 tracks with coffeehouse warmth, never trying to out-hip Mr. Scott-Heron.
"There was a whole bunch of other stuff that Gil recorded about the urban experience that I would have had no business singing," said Mr. Gates, who is white. "I had to choose songs that I connected with personally, as a jazz artist."
On "Lady Day and John Coltrane," Mr. Gates remains true to the 1971 original but adds a jazz-funk overlay. "Madison Avenue," "Winter in America" and "New York City," all become talk-swing ballads with a beat sensibility.
Toward the end of "This Is a Prayer for Everybody to Be Free," the album's high point, Mr. Gates is so moved that his scatting emulates the mellow bark of a trombone.
Sadly, Mr. Scott-Heron is still largely unknown today. But based on Mr. Gates's tribute, the late artist's legacy is likely to find a home with other jazz artists.