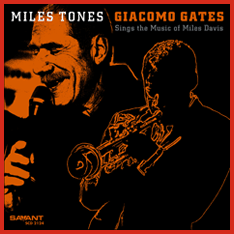 ---
Savant Records
Reaching and sitting at #1 for 4 weeks on JazzWeek Playlist!
Album Credits
Giacomo Gates – Vocals
Freddie Hendrix – Trumpet
John di Martino – Piano
Dave Stryker – Guitar
Lonnie Plaxico – Bass
Vincent Ector – Drums
Tracklist
1. All Blues
2. Be-Bop Lives (Boplicity)
3. Four
4. 'Round Midnight
5. I Fall in Love Too Easily
6. 'Long Come Tutu
7. Milestones
8. You're My Everything
9. So What
10. Walkin'
Reviews
Bruce Crowther
Jazz Journal, United Kingdom, July, 2013
Although I have admired Giacomo Gates for a number of years, this is my first opportunity to review one of his albums for Jazz Journal. He really is exceptional, singing with a warm, fluid sound used here to re-present the music of Miles Davis. The singer does this with enormous skill and verve, choosing music either composed by or recorded by Davis. From the outset, Gates makes clear where his jazz loyalties lie.
This said, the overall musical mood demonstrates that his style is anchored in the post-bop mainstream and not in the fusion period of Davis' career and this is particularly appropriate and pleasing for a vocal album that should enjoy widespread approval.
As all readers are aware, we are in the midst of a flood of jazz (and near jazz) singers, most of whom are female and it would be tricky compiling a list of male singers that extended into double figures. There is, therefore, a need for those few male singers to have the highest qualifications and Gates passes all tests with the greatest of ease, is in my view the best of the bunch. A consummate artist, he is a singer who can be listened to over and over and always with pleasure. There are touches of scat and vocalese, but mainly this is simply excellent orthodox jazz singing and a real treat for aficionados. The accompanying musicians are all excellent with Stryker having several solo opportunities, all of which are taken with skill.
Christopher Loudon
JazzTimes Magazine, May 2013
It has long been widely accepted that Kurt Elling is heir apparent to Mark Murphy. But an equally strong case can be made for Giacomo Gates. Indeed, while Elling has advanced to a somewhat distant — some might say higher — plateau, Gates remains truer to Murphy's path. Nor is it surprising that Gates has, since joining Joe Fields' Savant label in 2011, reached new levels of adventurism. It was, after all, during Murphy's three-decade association with Fields that his musical boldness and creativity soared. Many would argue that Murphy's mastery reached its apex with the Fields-produced Bop for Miles, recorded in 1990. Gates' Miles Tones is very nearly as magnificent.
Though Gates has, like Murphy, achieved his greatest fame for his ability to brilliantly vocalize multiple instruments, particularly horns, the intent of Miles Tones is to focus on lyrics associated with or subsequently attached to 10 Davis-related selections. As such, the album is as much a tribute to the wordsmiths — Oscar Brown Jr., Jon Hendricks and Al Jarreau among them — whose sagely tailored lyrics Gates so skillfully navigates.
From the long, lean lines of his "All Blues" and loose, loping "Be-Bop Lives," to his tightly coiled "Four" and dark, dense "'Long Comes Tutu," Gates strikes a dexterous balance between veneration and fresh interpretive imaginativeness. Murphy first added lyrics to "Milestones" when he recorded it in 1962 (and again in 1990), but Gates opts for his own clever wordplay. He also comes closer than any of the myriad vocalists who have covered it to capturing the bone-deep loneliness of Davis' "I Fall in Love Too Easily." The penultimate track, an insistent "So What" hoisted like a raised middle finger to all Davis detractors, is truly the album's endpoint. "Walkin'," which follows, simply provides a breezy coda.
From Nick's Picks (4 stars)
Fresh off the success of his much admired 2011 Gil Scott-Heron tribute recording The Revolution Will Be Jazz, vocalist Giacomo Gates may have paused at the idea of following up with another themed album, but when you have a chance salute Miles Davis, especially one with lyrics written by Oscar Brown, Jr., Eddie Jefferson and Jon Hendricks, the choice was a no brainer.
Miles Tones reunites Gates with his Heron trio (bassist Lonnie Plaxico, drummer Vincent Ector and longtime pianist John di Martino) and features a classic combo sound that dovetails perfectly with his wonderfully grizzled baritone. The other key roles are filled by trumpeter Freddie Hendricks and guitarist Dave Stryker who give Miles Tones a club-ready feel.
The album leads with the timeless composition "All Blues," where the band locks in a lilting groove to best serve Gates' distinctive croon. Pianist Di Martino comes close but never outshines the leader and the same needs to be said about the marvelous Stryker whose fretwork slips in a surprise or two (the sly Monk quote on "So What.")
Pulling tunes from throughout Miles' discography, bookended by his Birth Of The Cool period ("Boplicity") and Tutu ("'Long Come Tutu"). Gates swings like the best in-the-tradition vocalists, which is not too shabby for a guy who toiled on Alaskan oil pipelines in a prior life before pursuing his true calling and stepping up to the mic at a gig.
With Miles Tones, Gates springboards into the big league of great jazz singers with solid material and in-the-pocket musicians that underscores the leader's intrinsic hipness and gift for a song. (10 tracks; 49 minutes)
Marc Meyers
Jazz Week
CD discoveries of the week. Giacomo Gates is hands down my favorite male vocalist on the scene today. His last album — The Revolution Will Be Jazz: The Songs Of Gil Scott-Heron — knocked me out. Now, he's back singing all Miles Davis on Miles Tones: Giacomo Gates Sings the Music of Miles Davis (Savant). Gates comes out of the club-singer tradition, most specifically vocalese — words added to jazz songs and signature instrumental solos. Think King Pleasure, Eddie Jefferson and Mark Murphy. Gates's hipster baritone, conviction and spry vocal solos take you back to a time when people read poetry in the park and jazz was about the joy of life and intellectual pursuits. Attention Don Was at Blue Note.
Jersey Jazz
For his latest album, Miles Tones (Savant – 2124), vocalist GIACOMO GATES explores ten tunes associated with Miles Davis, but with a difference. Previous tributes to Davis have concentrated on the instrumental side of the music. In this instance, Gates performs the lyrics, in some cases ones written after the fact for originally instrumental pieces, and for standards like "I Fall in Love Too Easily" and "You're My Everything," he sings the lyrics written before they ever became a part of the Davis repertoire. Whatever the origins, Gates, with his resonant baritone, simply nails them. With backing from Freddie Hendrix on trumpet, John Di Martino on piano, Dave Stryker on guitar, Lonnie Plaxico on bass and Vincent Ector on drums, Gates shows why he is among the best of the current male jazz singers. He has a terrific sense of rhythm and phrasing, and articulates even the most complex of the occasional vocalese lyrics. He is also like a sixth instrumental voice when he scats. Do you get the impression that I dig this album? Well you are right! (www.jazzdepot.com)
Pierre Giroux (4 stars)
An animated Giacomo Gates sings, bops, and vocaleses his way through a selection of tunes either written by or associated with trumpeter Miles Davis. Supported by a tight and tasteful quintet, Gates delivers a session with an unfettered groove and makes Miles Tones a smart contemporary album.
Giacomo Gates understands miles from Miles. At one point in his early life, Gates spent time in Alaska working laying down pipeline, and thus came to recognize that singing, despite its uncertainties, was a preferable career choice than manual labor. Gates is an effortless singer with a cool temperament and these features come through on the set list whose origins are mostly from the Davis period of '50s and '60s (although "Boplicity" is from the Birth Of The Cool album from the late 1940s.)
Developing lyrics for some of these compositions is no easy matter, so Gates turned to Oscar Brown Jr., Eddie Jefferson and Jon Hendricks to create the written words for what were the instrumental tunes, while he wrote new lyrics for "Milestones". Davis' affection for pieces from The Great American Songbook were well represented by the Sammy Cahn/Julie Stein standard "I Fall In Love Too Easily" and the Harry Warren ballad "You're My Everything". Gates demonstrates his subtle flexibility in bringing these tunes to life with unpretentious honesty.
Ensuring the Gates' vocals have the greatest effect, the small band that supports his efforts is sharply-focused with crisp arrangements. Headed by guitarist Dave Stryker, they demonstrate impeccable sensitivity and never get in the way of the vocalist. Trumpeter Freddie Hendrix is especially effective with his smartly self-assured approach. This is an engaging concept album, and if you dig Miles, this release will be a pleasure.
Richard B. Kamins
CultureCreature
Giacomo Gates is a vocalist with a history like few that have come to jazz. Toiling on oil pipelines in Alaska, he did not return to his home state of Connecticut until his late 30s and has been perfecting his craft for the past 2 decades. His previous Savant recording was dedicated to the music of Gil Scott-Heron, issued right about the time the poet/performer passed away. "Miles Tones" looks at the music of Miles Davis, features a top-notch band (trumpeter Freddie Hendrix, pianist John Di Martino, guitarist Dave Stryker, bassist Lonnie Plaxico and drummer Vincent Ector) and excellent arrangements. To his credit, Gates blends well-known Miles classics, such as "All Blues", "Milestones" and "So What", with several surprising choices as "Be-Bop Blues" (based on "Boplicity" from "Birth of the Cool") and "'Long Come Tutu" from "Tutu." The latter is quite funky with a wonderful muted trumpet support while the former swings ever-so-smoothly, Gates' "vocalese" solo a real treat. Di Martino's classy piano lines support the vocal on "'Round Midnight" – here, Hendrix's muted trumpet lines weave beneath the vocal. The afore-mentioned "So What" is a perfect match for Gates voice, which dances like Cannonball Adderley's alto sax did on the original version. Ector's "swinging" drums set the pace on "Four" and the "groove" is strengthened by Plaxico's active walking bass lines.
Also to the leader's credit, these songs do not overstay their welcome with only one over 6 minutes and most under 5. The solos are concise but impressive; it's the wonderful support of the musicians that stand out as does Giacomo Gates's "easy" approach to the vocals.He does not force his way through the material, making the experience all the more satisfying.