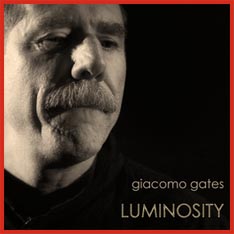 ---
G88 Music
Album Credits
Giacomo Gates – Vocals
John DiMartino – Piano
Ray Drummond – Bass
Greg Bandy – Drums
Bob Kindred – Tenor Sax
Tony Lombardozzi – Guitar
DVD Credits
Giacomo Gates – Vocals
Larry Dunlap – Piano
Aaron Hermain – Bass
Jeff Mars – Drums
John Gove – Trombone
Tracklist
1. Comes Love
2. Me, Spelled M-E, Me
3. Peace Of Mind (Let's Cool One)
4. Melodious Funk
5. The Beginning Of The End
6. Hungry Man
7. The Blues Are Out Of Town
8. Romancin' The Blues
9. Someone's Rocking My Dreamboat
10. Up From The Skies
11. What Am I Here For?
12. P.S. I Love You
13. Bonus track: Full Of Myself
Reviews
Christopher Loudon
JazzTimes
July 2008
Though Kurt Elling, Andy Bey and Mark Murphy garner greater attention, there's no question that Giacomo Gates belongs in their exalted league. Gates' sandy baritone, consistently handled with both the laid-back ease of Billy Eckstine and interpretative panache of Mel Torme (whose scat skills he echoes), is always inviting. But it is his ability to eschew overly familiar standards in favor of equality fine but less-obvious material that makes his albums particularly appealing.
Here, the 13-track spectrum, extending from Hendricks ("What Am I Here For?") to Hendrix ("Up From The Skies"), unearths all sorts of rare delights, often served up in clever pairs. A reworking of Monk's "Let's Cool One" (fitted with Gates' own lyrics and bracing scat lines) leads into Meredith d'Ambrosio's gray-clouded "Melodious Funk." Frank Wildhorn and John Murphy's heart-ache fueled "Romancin' the Blues" provides an ideal counterpoint to Joe Derise and Marcia Hillman's bouncily ebullient "The Blues Are Out of Town." And Dickie Thompson's self assured "Me, Spelled M-E, Me" breezily extends the theme of romantic inevitability introduces with "Comes Love." Elsewhere, Gates nods to both the Ink Spots and Bugs Bunny with the delightfully retro "Someone's Rocking My Dreamboat" and indulges his affection for Bobby Troup tunes with the deliciously caloric travelogue "Hungry Man."
Accompanying the disc is a five track DVD, recorded at San Francisco's Jazz at Pearl's that revisits "Melodious Funk," offers a gorgeously wistful and tender "Since I Fell For You," and pays double homage to one of Gates' greatest influences, Eddie Jefferson, first with a playfully executed "Disappointed" (blended with the Gershwins' "Lady Be Good") and then with a smoking "Billie's Bounce."
Will Friedwald
The New York Sun
April 18, 2008
On his Web site, the veteran vocalist Giacomo Gates, who played four shows at Dizzy's Club Coca-Cola this week, asserts that he is "committed to education." If there's one thing I would add in the way of advice to young musicians, it would be to find an approach that's exclusively your own, and Mr. Gates is a solid example of a performer who is doing something that no one else does. He evokes an age (that I would hope is not so terribly bygone) when musicians were entertainers and entertainers were musicians, and a sense of humor was as important as a sense of rhythm.
Mr. Gates has positioned himself as the heir apparent to the late Eddie Jefferson (who gets most of the credit, such as it is, for founding the jazz vocalese movement) and he has a dark-timbred baritone that at times is alarmingly similar to Jefferson's. Yet Mr. Gates is also widely regarded as the missing link between two contemporary male vocal headliners: the increasingly iconic Mark Murphy and the younger "worthy stud" (to use the performance artist Lord Buckley's term), Kurt Elling.
Like Messrs. Murphy and Elling, Mr. Gates is a committed eclectic, but unlike those two gentlemen (he has performed in their quartet, the Four Brothers), he stops just short of overt flakiness. One can find a little bit of everything in his vocal equivalent of a pupu platter: the blues, scatting, vocalese, instrumental imitations, novelty, and rhythm songs. Mr. Gates has a preference for male singer-songwriters of the modern jazz era, a fairly rare breed, yet he seems to know them all, from Jefferson and Jon Hendricks (whose excellent lyric to Duke Ellington's "What Am I Here For?" he sang on Wednesday night) to the more mainstream pianist-entertainers Matt Dennis and Bobby Troup, whose "Hungry Man" was a rhythmic and comic highlight of Wednesday's set, and their more contemporary descendents, such as Bob Dorough and Dave Frishberg.
When Mr. Gates sings the "straight" Great American Songbook, it's generally with a boppish twist: His version of "Oh, Lady Be Good" begins deceptively plain before it launches into "Disappointed," Jefferson's set of lyrics to Charlie Parker's solo on the Gershwin line (from a 1946 Jazz at the Philharmonic concert). He also sang "Comes Love," a 1939 show tune long favored by jazz singers, while the closest he came to a genuine ballad was "You Go to My Head," which he performed more as an account of getting wasted than as a salve for a broken heart.
Most of the emotion on this particular number was generated by Mr. Gates's ace accompanist, the fine tenor saxophonist Bob Kindred. There also was a charming duet on "All of Me" with Amanda Carr, a talented female vocalist visiting from Boston. On the whole, Mr. Gates would rather sing Thelonious Monk (the 1952 "Let's Cool One" and the blues "Straight No Chaser") than Cole Porter.
One thing that I've never heard Mr. Gates do — unlike Messrs. Murphy and Elling — is reprise Lord Buckley's famous take on Marc Antony's speech from "Julius Caesar." Still, the opening line of that routine, which begins, "Hipsters, flipsters, and finger-poppin' daddies," would seem to apply directly to him. Mr. Gates is, in fact, all of the above.
Owen McNally
The Hartford Courant
Giacomo Gates, the celebrated, Connecticut-based jazz singer, has the gilt-edged street-creds and working-class, blue-collar bona fides that Hillary Clinton, Barack Obama and John McCain can only envy, dream of or fake shamelessly.
Gates' earlier, pre-jazz life experience — a rough-hewn resume that brings the ring of authenticity to his vocal art — ranges from laboring as a heavy equipment operator on the Alaska pipeline to working the "suicide shift" at an all-night liquor store in a high-crime, seedy side of town.
If gritty, demanding jobs done well are a unisex gauge of one's machismo powers — or what a fervent Hillary supporter calls "the testicular factor" — Gates gets high marks as an erstwhile, cool-headed blackjack dealer, bouncer in rough-and-tumble nightspots and bodyguard for what is delicately described as "ladies of questionable repute."
Before Gates finally found his true profession as a jazz singer at the relatively ripe age of 40 in 1990, his experience as a hardworking, blue-collar man's man had included everything from driving cattle transporters and 18-wheelers to driving spikes for railroad tracks on the Alaskan tundra.
Since he began professionally mining the jazz vocal tradition from Louis to Ella back then, the diligent craftsman and hard-working performer has established himself as an authentic jazz singer. For all his acclaim, however, the laidback, unassuming baritone never fails to credit that often cited element of "authenticity" to his working class roots and all he learned about life as it is from all those menial jobs taken on the road to finding himself.
When music became his full-time job, he totally immersed himself not just in mastering its nuts-and-bolts techniques, but also its history, its liberated, live-and-let-live lifestyle/philosophy and even its hipster argot, speaking fluently in its vocabulary and idioms.
Making a giant leap forward in his jazz career–maybe even a monumental, Clark Kentlike single bound–Gates, with his new CD/DVD, two-disc album, "Luminosity" (doubledavemusic), has forged a tough, totally unpretentious, bold, hard-swinging and utterly latte and Gucci-free sampler of his bebop rooted, scat and vocalese style.
A double-barreled release, "Luminosity" is right on target with one CD devoted to displaying his musical firepower in a studio setting and one DVD capturing his energies both as a hip singer and charismatic, audience-charming performer in a live session at San Francisco's Jazz at Pearl's.
On the 13 tracks on the album's CD, Gates stretches out with his horn-like lines on blues, bop and ballads, enjoying solid backup, particularly from soulmate and kindred spirit, tenor saxophonist Bob Kindred.
Gates' elastic repertoire has plenty of snap and stretches easily over pieces by such disparate composers as Thelonious Monk, Jimi Hendrix, Bobby Troup, Duke Ellington and Gordon Jenkins, with one Gates original seasoned with strong, James Brown-like funk and, surprisingly, an homage to the Ink Spots.
A lifelong jazz fan, Gates is quite happily and creatively enamored of such bebop-rooted icons of vocalese as Jon Hendricks, Babs Gonzales, King Pleasure and — his personal holy of holies — Eddie Jefferson.
While Gates loves to sing pure, wordless phrases that emulate the instrumental lines of great horn players like Charlie Parker, Lester Young, Ben Webster and Dexter Gordon, it's also apparent from "Luminosity" and previous recordings that he also has a deep love for and profound understanding of the lyrics he sings.
Unlike many singers, it never sounds as if he's reading the song's words off a cue card for the first time ever. Instead, Gates gets deep inside the lyric, conveying its emotion whether heís expressing the dark night of the soul suffered by a spurned lover or grooving on a witty, irreverent blues lyric.
Because of his obvious passion for jazz as a transcendent force and love for the affecting impact of the spoken, written or sung word, it's easy to imagine Gates, a natural synthesizer of jazz and poetry, fitting right in as a charter member of the Beat Generation.
Chronologically, of course, Gates would have been way too young, a mere child, when the Beats were zinging America's Cold War establishment–even its iconic Ike–with an iconoclastic barrage of Zen, poetry, irreverence and non-conformity, including sex, drugs, Bird and Diz.
Nonetheless, it's not difficult to imagine an incarnation of an idealistic Gates hanging out at a Greenwich Village bar rapping with Jack Kerouac, Allen Ginsberg and Gregory Corso, or checking out the Big Apple's 52nd Street scene to catch up with the latest revelation from Billie, Bird, Diz or Prez.
You can even envision Gates, as a young artist questing after life experiences, new rhythms and lyrical expressions, as one of Dean Moriarty's fellow wanderers in Kerouac's, jazz-inspired, word-drunk "On the Road," the classic, 1957 novel of the Beat Generation.
The industrious Gates, of course, would have wound up supporting all of Moriarty's merry, proto-hippie pilgrims by getting a job along the way, working with his hands while nourishing his mind with the wisdom of the hipster comedian Lord Buckley and the teachings of the cutting-edge pianist/composer Lennie Tristano.
Perhaps because of his varied life-experience — much in the Mark Twain school of learning about life by roughing it on new frontiers — Gates is completely at home in a live performance, anywhere, anytime and for anyone.
Relaxed with his jazz jargon-seasoned patter between tunes, the blue-collar king of bebop connects with his audience as if they were old pals. It's almost as if everybody just happened to drop by his pad to have a friendly chat — perhaps about Miles Davis, Lawrence Ferlinghetti or Lenny Bruce — and maybe even a nightcap or two.
Shot in cinematic shadow and light, the video recording of Gates' live performance of four tunes comes across as natural, unforced, always complementing the music rather than trying to outshine it with flimflam film school gimmickry.
"Billie's Bounce" — a tune that allows Gates to combine his love of Charlie Parker and Eddie Jefferson — is one of the best live tracks. It's an excellent companion to his "Lady Be Good," which is a musical meeting of the minds of George and Ira Gershwin with Bird's high-flying invention on the classic tune.
In a bonus track on the DVD, Gates speaks candidly about his life, passion for music and words, and of his ecumenical style that he acknowledges embraces "a little slice of everyone from Chet Baker to James Brown." Gates gives the best, most succinct summation of what he's up to as an artist when he tells an off-camera interviewer:
"It's about being honest."
Michael G. Nastos
Giacomo Gates has flown under the radar for decades, always a rising star, but never able to grab the brass ring as one of the most talented and entertaining of a small cadre of male jazz vocalists. This new studio CD & club date DVD combo pack, only his fourth recording, should sway unacquainted listeners and attract an audience to what he does best — play to the listener.
In his flatted tone and effusive manner, Gates can charm you, impress you with his vocal chops, and tell the tall tales of jazz from hard, cold experience that few singers know. Gates also knows how to pick a first-rate band, with the extraordinary pianist John DiMartino his main foil, the peerless bassist Ray Drummond, Cleveland veteran Greg Bandy on the drums, and lesser known but skilled players as guitarist Tony Lombardozzi and unsung tenor saxophonist Bob Kindred helping out.
Always aware of the swing factor, Gates takes an enhanced lyric line to "Comes Love," sings his own words about the modern-day rat race and slowing the pace of life down on Thelonious Monk's "Let's Cool One" retitled "Peace of Mind," and does Meredith D'Ambrosio's bopping "Melodious Funk" alongside Kindred in regards to missing your one and only. Always fond of Babs Gonzales and Eddie Jefferson, Gates interprets the insular, self-promoting "Me, Spelled M-E, Me," the heartbreaking ballad "The Beginning of the End," and the bass/vocalese primed "What Am I Here For?" Among the sliders or curveballs included; a wonderful bluesy version of Jimi Hendrix's "Up from the Skies," the slightly ribald yearning for a good meal during "Hungry Man," the e-mail disdain of "P.S., I Love You," and the completely deadpan, sarcastic, and contempt riddled talking point tune "Full of Myself."
The accompanying DVD is from a performance at Pearls' in San Francisco, backed by a quartet featuring pianist Larry Dunlap. Eddie Jefferson's lyrics are featured on the classic read of "Billie's Bounce," the great rendition of the combo tune "Lady Be Good/Disappointed" of which Gates has heroically done for years, and another take of "Melodious Funk."
Though Gates is handsome and full of charisma, he's not as slick or pop-oriented as the Harry Connick, Jr. types. This is a good thing, because the authentic, pure bop invention of his American idols still deserves to be heard. Giacomo Gates does it right, and he keeps diggin' up buried jazz treasures.
Franz Douskey
There is no one close to singing, getting down into the depth of music, like the incomparable Giacomo Gates. His command of each song is remarkable. He was superb in his earlier releases, including Blue Skies and Centerpiece, but with Luminosity, Mr. Gates displays ease, complete control and his unique style with the great range of tunes, including swing, standards, ballads and the blues.
The recording is exceptional, finely balanced, with each musician fully realized. Professional all the way. John diMartino on piano is solid and subtly creative. Tony Lombardozzi on guitar provides his always remarkable cool and airy, distinctive style. Ray Drummond and Greg Bandy provide the gritty pulses and depth on bass and drums respectively. However, center stage is the main instrument, the range, humor, passion and joy let loose in the vocals of the singularly best jazz pipes around, the astounding Giacomo Gates. This is one CD you don't want your life to go by and miss.
When your intrigued enough by his music, and you would like to see Giacomo Gates perform, slip the DVD into your player. Giacomo and a different group of exceptional musicians are on stage, in San Francisco. The vitality and the quality is there, but now you can witness the profound professionalism, the understanding and intense interpretation of the lyrics. You realize that this isn't someone merely singing words, you witness a great voice feeling the meaning, getting down into the evocative rapture, passion, exuberance, and ecstasy of each written word.
Here again, the live Frisco set is recorded remarkably well. And when you are finally knocked out by the music, you can sit back and watch the insightful Giacomo interview where he discusses his music, his influences and music history.
This is really the complete package, neatly put together. If you haven't had the experience of hearing Giacomo Gates, this is the right time. As far as anyone singing or sounding or creating and improvising like Giacomo Gates, no one comes close. In fact, he is so far out in front, they have eliminated second place. Luminosity is exactly right.
J Hunter
May 23, 2008
"Begin at the beginning," the King told the White Rabbit, "and go on until you come to the end. Then stop." Normally, that's good advice, except in the case of Luminosity, a sparkling CD/DVD package that proves Giacomo Gates is all about commitment — to his listeners, to his fellow musicians (past and present), and to jazz and its history.
The DVD features a four-song excerpt from Gates' 2005 appearance at San Francisco's legendary club Jazz at Pearl's. But following that mini-set is the real prize of this package: "Influences, Concepts and Ruminations," a bonus feature that shows Gates discoursing about the songs and artists that have inspired him ever since he got his first taste of jazz from Dave Brubeck's Time Out (Columbia, 1959). Mind you, it's not necessary to watch this interview in order to enjoy Luminosity; Gates is always a treat to listen to whether he's on disc or in concert, and that's the way it is here. However, the insights and context "Influences" offers really puts Gates' overall performance in perspective.
First there are the artists, of whom Gates feels as passionately about today as he did when he first heard them: "Peace of Mind (Let's Cool One)" has Gates dispensing soothing advice over the startling music of Thelonious Monk; "What Am I Here For" combines Duke Ellington's music and Jon Hendricks' lyrics, doubling Gates' obvious pleasure; "Someone's Rocking My Dreamboat" lets Gates give shout-outs to Bugs Bunny and the Ink Spots; and Gates scores a three-fer with "Lady be Good/Disappointed"óa merry mashup of the Gershwins' music, the solo from Charlie Parker's take on "Lady," and the Eddie Jefferson lyric inspired by Parker's solo.
Then there are the lyrics, which gives Gates the stories he loves to tell: In a spoken-word intro to Bobby Troup's "Hungry Man" (one of several spoken intros on the studio set), Gates links Troup's love of travel — he wrote "Route 66" — with his love of fine food; Gates frames Dickie Thompson's "Me, Spelled M-E, Me" as a late-night infomercial for romance; and Gates shapes the questions Jimi Hendrix' alien protagonist asks during "Up From The Skies" into a snapshot-fast blast about global warming.
Gates is up-front about not having "an act": He knows what he's going to do in a general sense, but a lot of it is left up to the moment. That puts Gates and his band out on the wire, possibly without a net below. But the result is an unparalleled level of trust and respect, which raises all the performances to a higher level on both the studio side and the live side.
As Gates himself says, "There's gotta be a connection. Otherwise, I might as well stay home and sing." That connection would have been solid if Luminosity had only been a studio disc. But with the DVD, the listener not only makes the visual connection, but also connects with why Gates does what he does and — ultimately — sees why he does it so well.
Joe Lang
New Jersey Jazz
Listen to GIACOMO GATES in the interview on the DVD portion of his recent two-disc release, Luminosity (doubledavemusic n. 3001), and then read his liner notes. What you will understand immediately is that he is a vocalist with deep intelligence, musical and otherwise, and that he expresses in his words and music the essence of what hipness and jazz are all about for the diggers of the world.
Then give a listen to the audio disc that contains an eclectic gathering of songs. There are inventive interpretations of standards like "Comes Love", "Someone's Rocking My Dreamboat" and "P.S. I Love You." Also present are humorous ditties such as "Me, Spelled M-E, Me" and "Hungry Man." Gates lyrical setting of Thelonious Monk's "Let's Cool One" that he has retitled "Peace of Mind," and his original, "Full of Myself" show that his way with words extends to the realm of lyric writing.
Next, check out the DVD for Gates in performance at Pearl's, a club in San Francisco, to catch the vibe that he creates in a live setting, and you get a full picture of why Giacomo Gates is one of the few remaining jazz artists who give you a taste of the kind of ethos that attracted a disparate legion of fans to jazz, from Kerouac and the Beats to college students to intellectuals to button-down types. Gates is an oasis of freshness who should add some lightness and hope to those who despair the current state of our pop culture, plus he has a voice that is simply a gas! (www.giacomogates.com)
George Fendel
JAZZSCENE
July 2008
A number of years ago, at the urging of a very hip friend, I dropped by what was then The Red Lion in Portland, to hear a singer by the name of Giacomo Gates. I was hooked nearly from note one. Gates may well be the last link to the great bop singers of the mid-twentieth century; in particular, the great Eddie Jefferson.
Among many treasures on his new CD, a word or three on these: "Me, Spelled M-E, Me" is nothing more than a musical suggestion. It was introduced by another bop throat, Babs Gonzales, and Iíve never heard it sung until now. Monk's "Let's Cool One," with a Gates lyric, becomes "Peace of Mind." An obvious play on words, Meredith d'Ambrosio's "Melodious Funk" becomes another easy scat vehicle for Gates. Another rarity is "Hungry Man" a Bobby Troup gem nicely reprised here. "Romancin' The Blues," a song that says "I should be the headlines, not yesterday's news," has, as Gates notes, a Sinatra saloon feeling. Duke's "What Am I Here For?" comes at you with a scintillating scat lyric by Jon Hendricks, and the rarely done 1950's ballad, "P.S., I Love You" gets a tender treatment from Gates.
As if all this was not enough, there's also a DVD tucked into this package. It features our bop champ in live performance with all motors humming. There was King Pleasure, Babs, Jon and Eddie J. And now there's Giacomo Gates carrying on the tradition. True to his muse, Giacomo Gates can do it no other way. Highly recommended!!