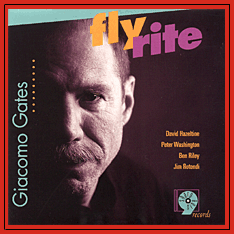 ---
Sharp Nine Records
Album Credits
Giacomo Gates – Vocals
David Hazeltine – Piano
Peter Washington – Bass
Ben Riley – Drums
Jim Rotundi – Trumpet
Tracklist
1. Senor Blues
2. Girl Talk
3. But Not For Me
4. Spinnin' (Speed Ball)
5. I Cover The Waterfront
6. Baby, You Should Know It
7. Jeannine
8. You Go To My Head
9. Fly Rite (Epistrophy)
10. How I Wish (Ask Me Now)
11. Night In Tunisia
Reviews
Bill Bennett
Singer Giacomo Gates has mastered baritone bravado: he has a lovely, deep sound, and matches that with a deep affection for jazz. He has a strong sense of melody that emerges in his scat work, and generates considerable heat as it moves between the registers of his voice. There are a few moments where a phrase seems not to fall naturally for him, but the same could be said of Eddie Jefferson, a Gates icon whose lyrics are represented twice in this session. The repertoire also includes his own lyrics to Monk's "Epistrophy," dubbed "Fly Rite, and Lee Morgan's "Speed Ball." The success of the recording owes considerably to Gates' supporting players: David Hazeltine on piano, Peter Washington on bass, Ben Riley on drums, and Jim Rotondi on trumpet and flugelhorn.
George Fendel
Jazzscene Magazine
Fly Rite, Giacomo Gates, Vocals. Bet you can't get past five trying to count the scat singing bebop singers still on the planet. It's a very specialized art, and Giacomo Gates may well be its foremost remaining practitioner. And bebop is definitely where his heart is. Before you hear a single note, just survey his choice of tunes. Senor Blues, Speedball, Epistrophy, Ask Me Now and Night in Tunisia, among others. The album's biggest surprise is a catchy Bob Dorough lyric called Baby You Should Know It. Gates also shows how distinctly he can handle the standards with But Not For Me, I Cover the Waterfront and You Go To My Head. Providing exhilarating accompaniment are David Hazeltine, piano; Peter Washington, bass and Ben Riley, drums. Jim Rotondi adds perfectly crafted solos on trumpet and flugelhorn. Giacomo Gates carries on for past heroes Bird, Diz, Bud, Monk and, of course, Eddie Jefferson. Bebop Lives!
Jack Bowers
Giacomo Gates, vocals; David Hazeltine, piano; Jim Rotundi, trumpet, flugelhorn; Peter Washington, bass; Ben Riley, drums.
Someone once told singer Giacomo Gates he sounded like a tenor saxophone. "Thank you," he replied. Gates, you see, wants his voice to sound like a musical instrument — in the great tradition of such masters as Jon Hendricks, Eddie Jefferson, King Pleasure, Oscar Brown Jr., Annie Ross, and so on – and on Fly Rite, his second album since returning to the Lower Forty-Eight in 1990 after many years in Alaska, Gates does almost everything with the human voice that one can envision. When not singing or scatting the lyrics of a song, he's using vocalese to mimic solos by Chet Baker or James Moody, adding his own lyrics to Jazz classics by Monk ("Epistrophy," retitled "Fly Rite") or Lee Morgan (Spinnin'" based on "Speedball"), or paying tribute to his mentors by reprising some of their better known prototypes. These include Eddie Jefferson's lyrics to Dizzy Gillespie's "A Night in Tunisia" and to Moody's solo on "I Cover the Waterfront," Oscar Brown's lyric to Duke Pearson's "Jeannine," and Hendricks's "How I Wish," based on Monk's "Ask Me Now." Gate's off-the-wall lyrics call to mind other overseers of the far-out, including Bob Dorough and Bobby Troup, and he bows to each with Dorough's "Baby, You Should Know It" and Troup's "Girl Talk" (the first version of the latter I've appreciated).
The lyric to Gershwin's "But Not For Me," written by drummer Artt Frank, is based not on Chet's trumpet solo but his scat singing. Getting through it ain't easy, but Gates manages, in the manner of Gilbert and Sullivan's "Modern Major general." And what a terrific rhythm section he employs to help him navigate these choppy waters. they don't come much better than Hazeltine, Washington, and Riley – and as a bonus, Rotondi tosses in a number of enterprising solos. Fly Rite is a pleasure to hear, Gates has a special talent, and Hendricks, Jefferson, Brown and the others must be applauding the passing of the torch.
Francesca Nemko
Downbeat
One description for this richly toned bass might be "bebop crooner." Giacomo Gates' bare-bones nakedness on "You Go To My Head" is deeply affecting – while, on the other hand, listening to his fully personalized rendition of Dizzy's "Night In Tunisia" leaves no doubt as to this swinger's roots in jazz. This quality is also exemplified on Horace Silver's "Senor Blues" and Duke Pearson's "Jeannine," on which he brings out fresh and vital nuances.
David Hazeltine is a marvelous foil for a vocalist, while being more than capable of stretching out in any tempo, as he does on "Jeannine" (mid-tempo) and the oh-so-slow "You Go To My Head." Trumpeter Jim Rotundi delivers searing, right-on-the-mark punctuations and fluent solos. Peter Washington and Ben Riley are past masters at the art of holding down any rhythm section and perform this role to perfection here.
In Gates' recent live performances, he wowed his audience with stunning "instrumental" solos: percussion, trombone, trumpet – all coming from his vocal cords. Maybe he'll include this aspect in his next recording.